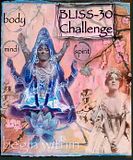 Yes, you're right, I've run this card before, but I am already hearing from clients how stressed they are feeling with the seasons events. So, with the holi-DAZE upon us, I am inviting you to dive into the 30-day Bliss Challenge. No, this is not intended to be one more TO-DO. It's intention is to offer you a place of bliss, rejuvenation and a little YOU time.
In the tradition of Advent 1. the period of expectant waiting and preparation for the celebration, 2. starting the fourth Sunday before December 25; in other words...RIGHT NOW.

What's the Bliss-30 Challenge? Every day for the next 30 days, you are to engage in some form of Everyday Bliss. What's that? Here is an excerpt from the book:

"Everyday Bliss is about process, not product or outcome. Think about things you love or once loved to do that have fallen by the wayside....Each day, take twenty minutes for yourself, doing something that brings you only joy and renews your spirit. Mix it up. Try Everyday Bliss at different times of the day to see which time resonates most with you."

"Here are some examples of Everyday Bliss actions: a spontaneous painting or drawings at the beginning of the day, a quick poem, a fifteen-minute yoga workout, dancing to music cooking from a favorite cookbook. Or try my personal favorite, a "daydream meditation," where you let your dreams flow onto your paper, using your non-dominant hand..."

You can read more about Everyday Bliss on page 118 in the Creative Awakenings book.

Join up by leaving a comment and create your pledge to take the 30-day "Everyday Bliss" challenge. Bookmark this spot to return and share how you've blissed your holi-DAZE. Grab the badge by clicking the link at the very bottom of this post, and put it on your blog to let the world know you're taking care of yourself this month.
You can also link in by adding your name here!